Emergency Care, 24/7
Ennis Regional Medical Center proudly boasts a designated Level IV trauma center featuring physician care around the clock. It is a nine-bed unit staffed with the finest skilled trauma team in the area, dedicated to caring for your emergency needs in a compassionate, efficient manner.
The goal of Ennis Regional Medical Center's Emergency Room staff is to offer the highest quality health care to all our patients, 24 hours a day, and seven days a week. We strive to deliver these services in a professional and compassionate manner with physicians and nurses who specialize in emergency care and specialists in many fields who are available for consultation.
Next Steps
Find Us
Our emergency department entrance is located on the north end of the hospital across from the entrance to Legend Oaks Healthcare and Rehabilitation.
2201 W Lampasas St
Ennis, TX 75119
Get Directions
Recognize the Symptoms
Early signs and symptoms that can begin hours or days before a heart attack. Timely treatment is crucial!
Quality Emergency Care for Heart Attacks
The national recognition we've earned demonstrates our staff's commitment to providing the highest quality of care.
American College of Cardiology Chest Pain Center Accreditation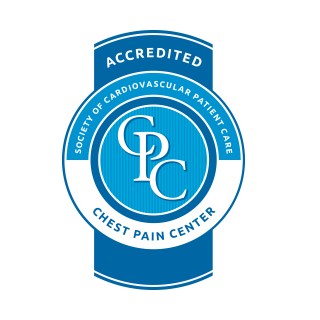 The American College of Cardiology has recognized Ennis Regional Medical Center for its demonstrated expertise and commitment in treating patients with chest pain. Ennis Regional Medical Center was awarded Chest Pain Center Accreditation in December of 2019 based on rigorous onsite evaluation of the staff's ability to evaluate, diagnose and treat patients who may be experiencing a heart attack.
We are dedicated to providing our patients with the best heart care treatment available. As an accredited facility, we use best practices in heart care to ensure that our patients receive:
Right care at the right time to minimize or eliminate heart damage due to heart attack
Timely and accurate diagnoses to reduce the disruption to your life and get you back home as soon as possible
Help and communication to better understand how to respond to your heart emergencies
Improved quality of life after a heart episode